Basics of Capital Budgeting
Capital investments are long-term investments in which the assets involved have useful lives of multiple years. Construction of a new manufacturing facility and purchases of machinery and equipment are examples of capital investments. Capital budgeting is a method of estimating the financial viability of a capital investment over its lifetime and focuses on cash flows rather than profits. It involves identifying cash inflows and cash outflows rather than accounting revenues and expenses flowing from the investment. Items like debt principal payments are included in capital budgeting because they are cash flow transactions. Non-cash expenses like depreciation are not included in capital budgeting because they are not cash transactions.
Capital investments create cash flows that often spread several years into the future so capital budgeting methods include adjustments for the time value of money. To assess the value of a capital investment, the timing of the future cash flows are taken into account and converted to the current time period (present value). There are seven steps involved in capital budgeting:
Identify long-term goals of the individual or business.
Identify potential investment proposals for meeting identified long-term goals
Estimate and analyze the relevant cash flows of potential investment proposals
Determine financial feasibility of each of the investment proposals using capital budgeting methods
Choose the projects to implement
Implement the projects
Monitor the projects implemented as to how they meet the capital budgeting projections and make adjustments where needed.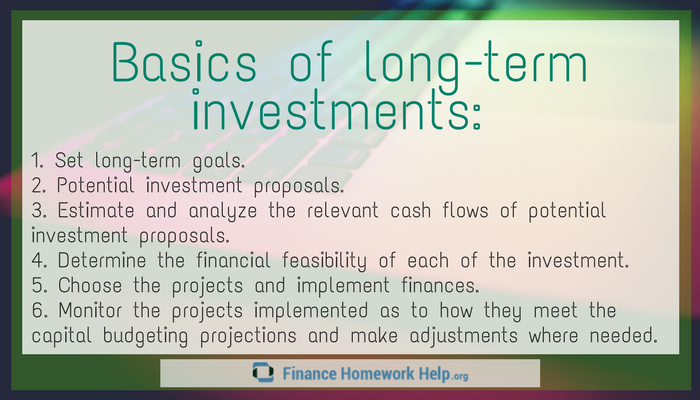 There are several capital budgeting analysis methods that can be used to determine the economic feasibility of a capital investment. They include the payback period, discounted payment period, net present value, profitability index, internal rate of return, and modified internal rate of return.
Help with Understanding Your Basics of Capital Budgeting Assignment
There are many concepts and ideas you must be familiar with to understand capital budgeting. Our finance homework service can help you understand the concepts involved in capital budgeting or any other finance assignment. We offer more than help with finance homework. Test preparation, research papers and individual finance tutoring are all part of the services we provide. Our service uses sample tests, practice problems, smart boards and a wide variety of interactive tools to supplement the materials provided through school and help you learn the topics you are having difficulty with.
Best Basics of Capital Budgeting Assignment Help
Our tutors are well qualified to provide basics of capital budgeting assignment help. Every tutor we use has a degree in finance or a related field, many at the masters and PhD level. In additional, they all have considerable experience tutoring/instructing students in finance. They are familiar with the requirements of the different academic levels and know how to explain difficult concepts and ideas in ways that are easy for students to understand. Whether you need help with your basics of capital budgeting assignment, capital structure assignment or some other finance topic, our expert tutors can provide the assistance you need.
Our Service Offers the Best Help and Benefits
We provide the best finance homework service available and we back it up with the best benefits. Some of the benefits of using our service include:
Guarantees of complete customer satisfaction and on-time delivery with all work we provide
Affordable rates that can be managed on a student's budget
Complete customer confidentiality always assured
Live customer support 24/7
Contact us for the best basics of capital budgeting help provided by our expert finance tutors!